Our Port St Mary office 
The office, located in Bay View Road in the heart of Port St Mary, opened its doors on 2nd February 2015 as part of the Corlett Bolton group of practices. Previously operating as Judy Thornley's practice, the office provides our clients in the South the continuity of service from existing staff as well as the added benefit of the wide range of legal knowledge, experience and expertise from across all the branches of Corlett Bolton.
Call in to discuss what we can do for you.
Scroll down to meet our Port St Mary Staff.
ADDRESS:
Beach House, Bay View Road, Port St Mary, IM9 5AE
EMAIL:
mail@corlettbolton.com
OPENING TIMES:
Monday - Friday 9am - 5.30pm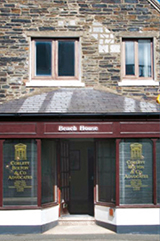 We look forward to serving the local community and welcoming clients old and new at our Port St Mary office where we are happy to be able to provide tailored advice on a wide range of legal matters from Family law and Private Client to Property or Commercial